Message Board (open 24 hours!)
Twitter - @andredursin (for everything else!)
An enjoyable sleeper from late Summer '93, MY BOYFRIEND'S BACK (***, 85 mins., 1993, PG-13; Kino Lorber) is a Touchstone comedy originally produced as "Johnny Zombie" before Disney decided to graft another pop-song onto its title (as they had countless times previously with the likes of "Taking Care of Business," "Pretty Woman," etc). Perhaps that had something to do with the film's box-office failure, though horror comedies were also a hard sell back in the early '90s, so it probably wouldn't have mattered either way (in fact, the movie's spoof element is actually more relevant to today's zombie-dominated horror than what constituted the genre back at the time of its release).
This fun, frothy outing from director/actor Bob Balaban stars Andrew Lowery as a high schooler who becomes undead and tries valiantly to work his way back into the heart of his unrequited love ("Fright Night Part II"'s busty Traci Lind). Part of the reason "My Boyfriend's Back" works so well is because of its squeaky-clean, "Leave it to Beaver"-like suburban setting, which provides an ideal venue for the movie's deadpan humor. Add in early appearances by Matthew Fox, Philip (Seymour) Hoffman and Matthew McConaughey – plus the ace support of veterans Edward Herrmann, Mary Beth Hurt, Cloris Leachman, Paul Dooley and Austin Pendleton – and you have a surprisingly effective little comedy that deserved to find a larger audience. It doesn't quite have the acidic bite of Balaban's "Parents," but it's also a lot more likeable at the same time.
After being brought to Blu-Ray several years ago by Mill Creek in a features-less presentation, "My Boyfriend's Back" is revived again by Kino Lorber in a new BD with ample extras. These include a new commentary from Balaban with Mary Beth Hurt and Austin Pendleton; a longish interview with star Andrew Lowery; a shorter talk with Balaban and a separate interview with Pendleton; plus a talk with Harry Manfredini. His synth score for the film isn't all that effective, but the sporadic pop tunes are enjoyable enough, especially the lovely closing ballad, "Hanging On For Dear Life," from "MMC," the then-hip incarnation of (yes) the Mickey Mouse Club. The 1080p (1.85) AVC encoded transfer and 5.1/2.0 DTS MA stereo options are both on-par with the previous Blu-Ray (which only offered lossy Dolby Digital 2.0 audio), though the higher bit-rate results in a slightly crisper presentation.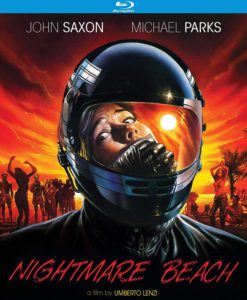 NIGHTMARE BEACH Blu-Ray (91 mins., 1988, Not Rated; Kino Lorber). FRIGHTFUL PLOT SUMMARY: Utterly ridiculous and quite entertaining 1988 Italian-made slasher brought Euro-exploitation auteur Umberto Lenzi (aka "Harry Kirkpatrick") over to the U.S. for the tale of a motorcycle-riding madman dispensing Spring Breakers in south Florida. The death sequences are so over-the-top that the film isn't overly gory, while the light plot from Lenzi and Vittorio Rambaldi offers Preppies and gangs getting into it, much to the consternation of cop John Saxon and medical examiner Michael Parks. BLU-RAY BREAKDOWN: Kino Lorber's stellar looking 4K remaster (1.85) is licensed through Studio Canal and offers high detail and warm colors. The mono sound is clear with extras including a subtitled interview with composer Claudio Simonetti, a commentary from Samm Deighan, and the trailer. AISLE SEAT SCARETASTIC BOTTOM LINE: If you're looking for fun in the sun, some absurd deaths and a good time, "Nightmare Beach" is fast-moving and displays a surprisingly light touch given Lenzi's prior works. A guilty pleasure!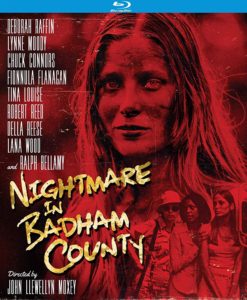 NIGHTMARE IN BADHAM COUNTY Blu-Ray (93/101 mins., 1976; Kino Lorber). FRIGHTFUL PLOT SUMMARY: One of the more memorable TV movies from the mid 70s, "Nightmare in Badham County" spins the story of two college girls (Deborah Raffin, Lynne Moody) traveling cross-country when they break down in a small southern town. After a couple of testy run-ins with the local sheriff (Chuck Connors) and a corrupt judge (Ralph Bellamy), the girls are sent to a women's prison where they find justice is in scant supply. TV-vet John Llewellyn Moxey helmed Jo "Play Misty For Me" Heims' original script, which was in based in part on assorted real-life cases and plays out quite effectively minus lots of camp – even with the likes of Connors, Robert Reed and ex-"Gilligan's Island" ingénue Tina Louise co-starring. ABC first broadcast "Badham County" in 1976 while a theatrical version – complete with R-rated alternate takes of sex and nudity – played to apparently big audiences in China! Kino Lorber's Blu-Ray offers both cuts in a terrific release. BLU-RAY BREAKDOWN: The 2K master of "Badham County"'s superior TV cut (1.33) is noticeably healthier and more pristine in appearance than its longer, overseas theatrical counterpart (1.85), but it's great to not only have this film back in-print, but in both versions as well. An interview with Moxey and a commentary track on the TV cut from a pair of podcasters round out the extras. AISLE SEAT SCARETASTIC BOTTOM LINE: "Badham County"'s terrors are decidedly more real in nature – but that doesn't make this harrowing TV-movie any less horrific in terms of the injustice its lead characters suffer through. Well worth checking out when it streets October 29th.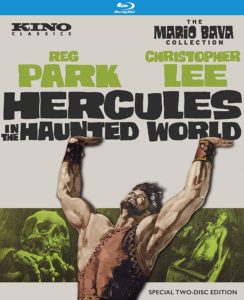 HERCULES IN THE HAUNTED WORLD Blu-Ray (84 mins., 1961; Kino Lorber). FRIGHTFUL PLOT SUMMARY: Mario Bava followed up the international success of "Black Sunday" by tackling this amusing Hercules adventure – one that finds the strongman heading into Hades in order to rescue his girl (Leonora Ruffo). Broad comedy hijinks mix with Saturday matinee-styled thrills as before, but it's Bava's directorial flourishes – seen in the otherworldly fantasy realm Hercules ventures into, presided over by the nefarious Lico (Christopher Lee) – where "Haunted World" shines. This is a colorful widescreen extravaganza beautifully preserved by Kino Lorber. BLU-RAY BREAKDOWN: Kino Lorber's two-disc "Mario Bava Collection" release includes a sparkling 2K restored transfer (2.35) of the film in both its original Italian and U.S. release versions, which sports an unnecessary prologue but is otherwise similar to its overseas counterpart. The UK release print is also included plus an interview with co-star George Ardisson, trailers, and an informative commentary from Bava authority Tim Lucas. AISLE SEAT SCARETASTIC BOTTOM LINE: Thanks to Lee's presence, "Hercules in the Haunted World" boasts a bit of a Hammer flavor in addition to Bava's trademark use of color. This is a weird and enjoyable slice of hokum – and here's hoping we get a full set of "Hercules" adventures on Blu-Ray sometime!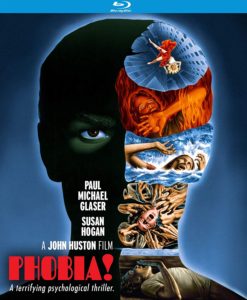 PHOBIA Blu-Ray (91 mins., 1980, R; Kino Lorber). FRIGHTFUL PLOT SUMMARY: Pokey Canadian thriller is just a blip on the filmography of director John Huston, who made the trek north to produce this blah suspenser. Paul Michael Glaser plays an American psychiatrist whose work involves curing the phobias of his patients, all of whom are paralyzed by assorted fears (snakes, heights, etc.). Unfortunately for the good doctor, his patients soon begin to be offed one by one, leading to questions from a detective (John Colicos) suspicious of him and his methods. "Phobia" was based on a story by Gary Sherman and Ronald Shusett, with the final script credited to three other writers, including Hammer vet James (Jimmy) Sangster and "Highlander" co-author Peter Bellwood. No doubt the writing credits were a sign of a labored production, since "Phobia" looks and plays more like an R-rated Canadian TV film than the typical work of its esteemed director. BLU-RAY BREAKDOWN: Making its HD debut, "Phobia" – a movie I recall seeing on the VHS shelves of my old video store haunt for years growing up – has been treated to a superb 4K (1.85) remaster. Grain is in abundance and there's high detail throughout, while the mono sound is as faithfully reproduced as it can be. Extra features, newly produced, include interviews with actresses Susan Hogan and Lisa Langlois, the trailer, and a commentary from Canuxloitation experts Paul Corupe and Jason Pichonsky. AISLE SEAT SCARETASTIC BOTTOM LINE: Though a curio for both thriller fans and Huston buffs especially, the little-seen "Phobia" gives you plenty of reason to understand why it's remained little-seen over the years.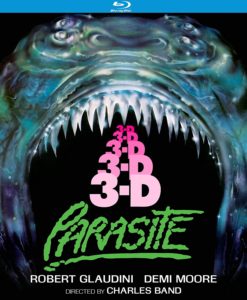 PARASITE Blu-Ray (85 mins., 1982, R; Kino Lorber). FRIGHTFUL PLOT SUMMARY: Wild and woolly Charles Band production is set in a post-apocalyptic future where corporations have developed flesh-eating parasites to deal with a shrinking populace of wasteland survivors. Demi Moore is among those, with Robert Glaudini as a doctor who intentionally becomes infected with the parasite so he can learn its properties and try to destroy it. This 1982 Band production offers the same level of B-amusement as much of his later Empire/Full Moon catalog, marked by mediocre effects and a familiar, formula story — yet the natively-shot 3D cinematography has been so effectively preserved here thanks to the efforts of the 3D Film Archive that there's still plenty of genre fun to be had…provided you still have access to the format. BLU-RAY BREAKDOWN: Kino Lorber's Blu-Ray includes a newly restored 4K scan (2.35) of the original camera negative with the 3D Film Archive providing the 3D restoration. Both transfers are on-hand in this Kino Lorber Special Edition, which also includes a wealth of new extras: interviews with Band, writers Alan J. Adler and Michael Shoob, creature designer Lance Anderson and composer Richard Band among them. There's also a commentary from Adler, TV and radio spots, trailers, 2.0 DTS MA sound and a featurette on the 3D Film Archive's restoration efforts. AISLE SEAT SCARETASTIC BOTTOM LINE: "Parasite" is a lot more entertaining in 3D than it is "flat," so the biggest challenge one has in recommending the Blu-Ray is ensuring the audience has 3D at their disposal — which is increasingly tough to do in our 4K age (to wit, two of our plasma sets have recently died, so I had to check the disc out at my parents' for their 3D capability). Here's hoping 3D makes a comeback down the line, which would certainly make Kino Lorber's "Parasite" a disc worth holding onto.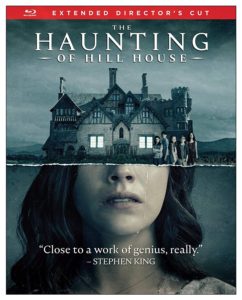 THE HAUNTING OF HILL HOUSE Blu-Ray (569 mins., 2018; Paramount): FRIGHTFUL PLOT SUMMARY: Acclaimed and exceedingly effective – if a bit drawn-out – "remix" of Shirley Jackson's novel follows a family of five, headed by parents Timothy Hutton and Carla Gugino, who move into the haunted house where each of them are impacted by Hill House's ghosts in markedly different ways. Mike Flanagan's Netflix series flashes back and forth from the perspective of the surviving children's experiences as adults to their harrowing lives in the belly of Hill House, and the secrets it threatens to keep to itself – forever. BLU-RAY BREAKDOWN: Flanagan provides an extended Director's Cut of the 10-episode Netflix series here with commentaries on three episodes, plus a bonus commentary with Flanagan on the episode "Two Storms." 1080p (1.85) transfers and Dolby TrueHD soundtracks comprise a robust technical package. AISLE SEAT SCARETASTIC BOTTOM LINE: I'm not going to lie – this "Hill House" is disturbing in a lot of ways and really gets under your skin in terms of its intensity. Not for everyone – and the lengthy running time curtails some of its effectiveness, not to mention makes it a bit repetitive – but horror buffs deservedly gave it a big thumbs up.
GOTHIC HARVEST DVD (83 mins., 2018; Cinedigm): Micro-budget horror film stars veterans Bill Moseley and Lin Shaye in the story of a grizzly New Orleans clan seeking a new spate of victims, and finding it in the form of Mardi Gras-partying coeds. Cinedigm's DVD (16:9, 5.1) is out November 5th.
THE DRONE DVD (82 mins., 2019, R; Lionsgate): "From The Director of Zombeavers" proudly proclaims Lionsgate's packaging – which tells you all you need to know about this ridiculous thriller, wherein a couple (John Brotherton, Alex Essoe) run afoul of a drone – possessed by a serial killer! It's "Ghost In the Machine" and "Lawnmower Man" on a much smaller, less satisfying scale…much less satisfying. Lionsgate's DVD (1.78, 5.1) is out this week…Also New From Lionsgate: Noomi Rapace provides a convincing turn in the uneven but compelling ANGEL OF MINE (98 mins., 2019, R), Kim Farrant's film about a broken woman who becomes obsessed with her neighbor's daughter. Yvonne Strahovski is also terrific as the girl's frustrated mother in this Australian drama that functions more effectively as a study of a grieving, troubled woman as opposed to a suspense thriller. Lionsgate's Blu-Ray is out next week featuring a 1080p (2.39) transfer, 5.1 DTS MA sound, a Making Of, cast/crew interviews, the trailer, and a Digital HD copy…Robert Patrick and "Silicon Valley"'s Amanda Crew star in TONE DEAF (88 mins. 2019, R), Richard Bates Jr.'s uneasy thriller. Crew plays a single girl who's seemingly lost her job and her relationship, and tries to get away from it all by renting a country home owned by widower Patrick. He's, of course, quite crazy, leading to not just brutal shocks, but also brutally unfunny political commentary on Bates' behalf. As subtle as a sledgehammer, "Tone-Deaf" debuts on Blu-Ray next week from Lionsgate featuring a Making Of, 1080p (2.39) transfer, 5.1 DTS MA sound and a Digital HD copy.
---
Also New & Noteworthy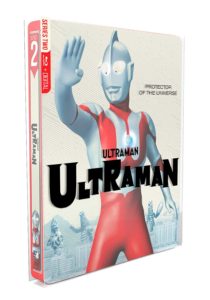 ULTRAMAN: THE COMPLETE SERIES Blu-Ray Steelbook (16 hours, Mill Creek)/UTLRA Q: THE COMPLETE SERIES Blu-Ray Steelbook (12 hours, Mill Creek): Colorful, goofy, supremely memorable Japanese TV series which aired in syndication in the U.S. during the '70s and '80s is back on Blu-Ray from Mill Creek, who also debut its B&W predecessor – "Ultra Q" – in the format for the first time.
If you have any fond memories of watching "Ultraman" growing up then you'll get a big kick out of both sets, packed in attractive Steelbook boxes. Unlike the previous BCI DVD release, however, viewers should note there's no English dubbing here – just the original Japanese audio (2.0 mono) for the legendary "Ultraman" series, which was produced in '66-'67 and premiered to big ratings in its native country. Though cut down somewhat, the syndicated version of the series proved to be a big hit with American kids throughout the 1970s as well. It's particularly fascinating to revisit its kaiju/super-hero action and flamboyant sci-fi plots and compare it with "Ultra Q," a 28-episode predecessor that followed a group of characters called to investigate strange phenomena across Japan.
The creatures of former Toho FX producer Eiju Tsuburaya continue to make these enduring entertainments (sharp-eyed viewers will notice some very recognizable monster suits during some of the fight sequences!), even if young kids won't find them as accessible without the benefit of English dubbing.
Both packages are both now available with "MovieSpree" digital copies on-hand that can be redeemed through the label's recently launched streaming service.
WANTED: DEAD OR ALIVE Blu-Ray (106 mins., 1986, R; Kino Lorber): One of Rutger Hauer's more memorable American vehicles, this 1986 New World updated reworking of the Steve McQueen TV series offers Hauer as Nick Randall – the grandson of McQueen's character, who follows in his footsteps as a modern-day bounty hunter. Gene Simmons is the terrorist preying upon L.A. but it's only when he turns the tables on Nick – taking out those closest to him – that the bleep really hits the fan. Gary Sherman helmed this low-budget production that strives for Stallone/Bronson-leveled thrills but is a bit bloated and overly nasty in tone to really score; however, for Hauer fans, it remains a worthwhile view simply for his performance. Kino Lorber's Blu-Ray (1.78) includes a newly remastered 2K transfer with commentary from Sherman and producer Arthur M. Sarkissian, trailers, and separate interviews with Sherman and co-star Mel Harris, who plays Nick's girlfriend in a pre-"thirtysomething" part.
NIGHT HUNTER Blu-Ray (99 mins., 2018, R; Paramount): Sporting a moppy hairstyle and beard, Henry Cavill wants you to know he's no Superman in David Raymond's thriller. Cavill plays a police detective who works with a vigilante (Ben Kingsley) to take down a serial killer – only to have him plan a series of attacks from behind bars – while Alexandra Daddario, Nathan Fillion, Minka Kelly and Stanley Tucci co-star in a good-looking but absurd, contrived Saban Films production debuting this week on home video. Paramount's Blu-Ray offers a Digital HD copy, 1080p transfer and 5.1 DTS MA sound.
Cohen Film Collection New Releases: Christian Carion's MY SON (85 mins., 2017) is an intense French import starring Guillaune Canet as a distraught father who heads to a snowy town in eastern France searching for his kidnapped son — something paralleled in Carion's decision to shoot the dramatic thriller in sequence, with Canet unaware of the plot and its resolution. This brings an interesting dynamic to a familiar story, making "My Son" well worth a look. Cohen's Blu-Ray is now available featuring a Making Of, behind-the-scenes with Carion and Canet, and 5.1/2.0 French audio with English subtitles…Also new from the Cohen Film Collection on Blu-Ray this month is the 1981 Merchant Ivory drama QUARTET (101 mins., 1981, R), a James Ivory-helmed effort that earned a Cannes Best Actress award for Isabelle Adjani, here playing a West-Indian woman who gravitates toward an English art patron (Alan Bates) and his artist wife (Maggie Smith) after her dubious husband (Anthony Higgins) is sent to prison. Ruth Prawler Jhabvala adapted Jean Rhys' autobiographical 1928 novel for this well-reviewed picture, on Blu-Ray featuring interviews with Ivory, the trailer, a new conversation between Ivory and Pierre Lhomme, a 1080p transfer and 2.0 audio.
BAKUGAN: BATTLE PLANET DVD (286 mins., 2019; Cartoon Network/Warner): It's been over a decade since "The Great Collision," and Dan Kuso and friends (aka The Awesome Ones) are just beginning to truly unravel the Bakugan mystery – while continuing the defend their neighborhood and battle dark forces while uncovering new Bakugan in the process. Warner's "Battle Planet" DVD includes a baker's dozen episodes in 1.85 widescreen (16:9) and 2.0 stereo sound, and streets October 22nd.
NEXT TIME: Shout's Halloween frightfest with THE OMEN box and more! Until then, don't forget to drop in on the official Aisle Seat Message Boards and direct any emails to our email address. Cheers everyone!